We couldn't be more thrilled to officially announce that Pear Collections and owner Angie Martin has been featured in the Tweed Daily News in partnership with the Sunshine Daily News and The Northern Star!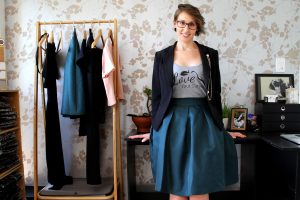 The feature came about after Pear's owner, Angie, did a post on her local Facebook Community Page celebrating the success of the business's first photo shoot. A fellow member of the group, Jessica Lamb saw the post and instantly connected with the brand; so much so she decided to include Pear Collections in a feature the Tweed Daily News was doing on Tweed Businesses.
You may be asking, what was the post about that would alert the interest from the local newspaper? Well, let us give you some background.
The Photoshoot:
On March 21st, 2020, Pear Collections was slated to do its first professional photoshoot complete with a makeup artist, hairstylist, photographer, and three beautiful local models. However, as fate would have it COVID-19 lockdowns had just begun so the shoot was cancelled for the safety of the entire team.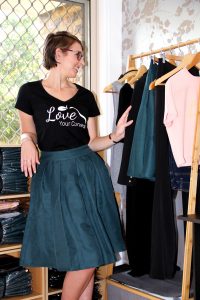 This left Pear in a predicament as the brand desperately needed photography of the range for digital marketing. Thankfully, Pear has a wonderful support network and Angie's partner Eden Brownlee, owner of Accentuate Web Design & Marketing, came in to be the photographer of a home-based photoshoot featuring Angie who filled the role of makeup artist, hairstylist, shoot stylist, and model.
The two worked together in a 3-hour photoshoot that resulted in a branding shoot as well as product photography all done from the comfort of their Banora Point house. From there Angie partnered with a fellow female entrepreneur who professionally edited the shoot and just like that; Pear Collections was able to complete its first official photoshoot done.
As you can see Pear Collections was able to quickly able to come together and pivot its plans. It has been because of this that the company has survived the beginning of the coronavirus epidemic while also helping its customers view the fantastic capsule range. Although Eden wasn't a professional photographer and Angie, not a professional model the brand was still able to come through with successful imagery that ensured our new brand could survive.
It was Pear's passion and determination that excited  Jessica Lamb's interest and passion for sharing our story.
The Article
The article itself was fantastically written successfully communicating Angie's passion for creating the brand; including how the brand first came to be:
"STARING despondently at a pile of pants that just weren't made for her body type, Banora Point's Angie Martin decided she owed it to herself and curvy women around Australia to do something about it.

The idea came when the Tweed entrepreneur took a leap of faith, quitting her job of five years without a back-up plan.

While shopping for job interview outfits, Ms. Martin became frustrated when she just couldn't find outfits that catered for pear-shaped women."
Jessica then went into explaining the story behind the photoshoot while also successfully including the concept behind Pear:
"Everything I've designed is specifically for women who are curvy on the bottom – so in all of the pants, I've made room for that. They go out at the hips and in at the waist. I also did things like increasing the rise so when you bend down nothing shows."

Pear Collectives has a range of multi-occasion, sustainable garments made to be mixed and matched."
Angie and Jessica were even able to discuss the sustainability and community-driven aspect of the brand:
"Everything we do; we always make sure it has the least impact as possible. Even our clothing labels are recyclable and sustainably sourced."

"(For) everything purchased with us we donate five percent to a charity helping the homeless."
It was such a pleasure to partner with Jessica on this feature; as we said previously – she was able to bring to light and celebrate the community Pear Collections is creating for pear-shaped and curvaceous women throughout Australia.
Special Thanks:
As this is the first time Pear Collections has been published we wanted to take this time to do a special thanks to Jessica Lamb and Tweed Daily News for bringing our passion for supporting pear-shaped and curvaceous women to our local community and celebrating the first successful photoshoot the company has completed. During the interview for the feature, it was clear how fantastic of a person Jessica was and how much she resonated with the brand and its mission of offering an alternative to the status quo.
Secondly, we'd like to thank Eden Brownlee, Angie's partner, for helping her complete her vision for the brand's first photoshoot and taking the time to be the photographer for the day. It is this continued support that helps Pear Collections continue to grow and thrive.
If you'd like to read the full feature, simply click here!