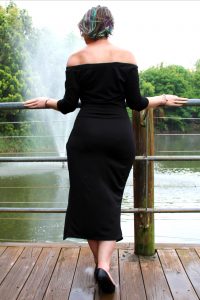 Pear-shaped, also known as triangular-shaped, is the most common body type among women today.  A pear-shaped body can be determined by your proportion measurements. Some characteristics of a pear-shaped body include; your hips and thighs being wider than your shoulders and bust, you have a defined waist that is narrow compared to your hips, your fat tends to accumulate on your thighs and buttocks oppose to your top half and you tend to have an elongated waist with shorter legs in comparison to the rest of your body. Women of all sizes are considered pear-shaped no matter how tall, short, heavy or skinny they maybe.
Here are some universal tips the team at Pear Collections would like to share to help you understand the specifics of dressing a pear-shaped body. Please note, these tips are important to remember regardless of what dress size you are as they are designed to help any pear-shaped women create a proportionate frame.
Balance It Out
Pear-Shaped bodies are one of the hardest to balance due to the dramatic size differences in our top and bottom halves. It is important to remember that body shape is almost entirely based on your bone structure – not your weight. Therefore, women who are size 2 and size 22 can both be considered pear-shaped. Use your outfit to balance out your hips by accentuating your petite waist and beautiful shoulders.
Draw the Eye
Use design lines to focus the eye where you want to go. They can help you create curves, lengthen and emphasize your favourite parts of your body. The best way to do this is with wide/straight-leg pants, wrap dresses and A-line skirts accessorized with a cinched waist to streamline and lengthen your legs and draw your eye up to your body to your waist and face.
Try to choose bottom materials that hold their form like wool slacks or denim to help flatter and streamline your shape. Also, avoid any tight knits on the bottom as the cling and accentuate your width.
Think About Colour
Your eye is also drawn to patterns and light, bright colours more so than solid black or navy. Keep this in mind when choosing separates. For pear-shaped women, it is highly suggested you use simple tricks like wearing dark colours on the bottom and heals to lengthen and thin out the look of your thighs and hips. While wearing bright colours on your top half to draw the eye upwards to your small waist and long torso.
Remember: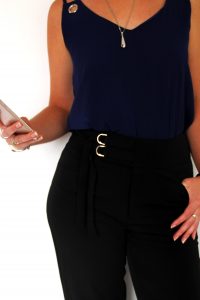 When you keep it simple on the bottom, you have more room to play with tops and accessories so start to stock your wardrobe with great fitting trousers, jeans, skirts and dresses while playing with colours, prints and less expensive/trendier accessories and tops. These items will draw the eye up to your feature – your beautiful face.
So there you have it. Three easy to follow tips in knowing about finding the most flattering fit for pear-shaped bodies.
Want to know more?
Pear Collections love sharing answers to frequently asked questions about dressing a pear-shaped body! Click here to sign up to our weekly Style Tips and Tricks Video Blog today.