This month I had the pleasure to interview a long-time friend and fellow female entrepreneur, Katie Masters for our Vblog series, Style Tips & Tricks. Katie is the owner of Katie Masters Health, a holistic approach to creating permanent change in your life by getting strong, healthy, and leaner to feel more confident and empowered.
I have known Katie for over 9 years now and cherish the friendship we have. Together, Katie and I can connect as friends, business owners, AND pear-shaped women. In her early 20s, while studying, Katie was struck with a virus labeled 'post-viral syndrome' aka Chronic Fatigue which caused her to gain 20 kilos leaving her tired while experiencing fever and anxiety. Over the years Katie tried to find the solution to her health dilemma to help with her stress, dietary and digestive issues.
However, as the years went on Katie suffered from a Trans Ischemic Attack (T.I.A aka mini-stroke) which understandably caused an extremely traumatic and life-altering event. This event caused Katie to look at her lifestyle choices and create an instant change to better her health and life. This lead to Katie leaving her stressful (but successful) career as a Digital Marketer to follow her passion focusing on pursuing her career in health and fitness.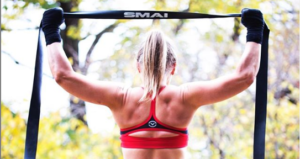 Since then Katie has been able to help her clients get healthy, strong, move better, recover from injury and illness, lose weight, and ultimately feel better about themselves. As a friend watching Katie's personal and professional development, I have been so proud of her passion for helping others to become the best version of themselves while she does the same.
It is because of this passion that I have worked with her through my dietary struggles these past few months. After over 15 years of struggling with my low blood pressure, and non-existent iron and B12 levels I had had enough of doctors being shocked how 'functional' I was considering my blood results. After the last straw of taking extreme iron medication, I called Katie (after a few tears) and decided to change my life. Over the years of knowing each other Katie has known my struggle with feeling lethargic and weak however I never had the confidence to truly confide in her on a professional level to get help. After two weeks of monitoring my eating habits (which were not unhealthy), we were able to create a dietary plan that would naturally assist my absorption of sodium, iron, and B12. Since then I have finally felt on the right track with my health and have noticeably noticed a change in my energy levels.
This nearly instant impact in my life has made me think about all the other pear-shaped women suffering in our community so simply need to take the step I have to gain control of my life and health.
During our four-part Vblog series, Katie and I discuss all things health and wellness in regards to being both petite and plus size pear-shaped women over the years. In our first episode, Look Good & Feel Great, Katie is kind enough to discuss more about her journey to finding a healthier lifestyle and loving her body. Then in our second episode together, Strength = Confidence, we discuss the concept of building a healthy body image, the positive benefits of strength training, and why Pear Shaped Women should care.
From there we discuss the myths of getting 'healthy' and speak about how Low-Intensity Steady State (LISS) can benefit your lifestyle as a pear-shaped woman while reducing your stress levels in our LISS episode.
To conclude our pear-shaped health and wellness series we discuss Katie's top personal trainer tips for pear-shaped women and impress the importance of openly discussing your health with professionals; something even I am getting used to.
As a pear-shaped woman who has just recently come to terms with loving my curves, I couldn't have been more thrilled with how this series went. Not only were Katie and I able to share real-life stories of being pear-shaped women but together we were able to start the conversation of openly loving our curves and ourselves on behalf of all the pear-shaped, worldwide.
Thank you once again to the amazing Katie Masters for taking part in this Vblog series and for sharing painful stories that have shaped the incredible woman you are today.
If you would like to take the first step in changing your life by gaining support in becoming healthy both mentally and physically, please feel free to contact Katie for more health and wellness tips:
Please feel free to contact Katie for more health and wellness tips here:
Remember ladies, it takes time to make changes and everyone works at different rates so stop comparing yourself to others and focusing on what positively adds to your life and life goals.