When it comes to dressing your body; no matter your shape, typically the 'goal' is to create the illusion of an hourglass shape. However, when it comes to feeling comfortable in your clothing many Plus Sized Pear Shaped Women just want to feel confident, comfortable and 'balanced'. Because of this, we need to first understand our body type so it can help you choose flattering outfits that will complement your curves; not hide them.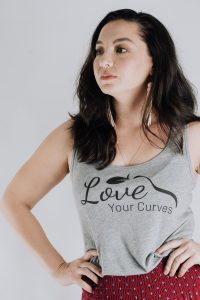 As a Full-Figured Pear Shaped Woman, you will have curvy hips while fat tends to accumulate on your thick thighs and a fuller behind. You tend to also have refined shoulders, a defined waist, an elongated waist and shorter legs compared to the rest of your body. In the past, you may have found it difficult to find the right clothing to fit around your hips and thighs while finding something that flatters your curves.
I have created this resource to help you finally achieve a flattering look that accentuates your beautiful curves while helping feel comfortable and confident in your body; which fun fact over 60% of the female work has. Yes, you read that stat right; over half of us women have a pear-shaped body which is why Pear Collections finds it so frustrating that the fashion industry still doesn't cater to the vast majority of the female population. Not to worry though; we are here to tell you there is nothing wrong with your hips while providing you with some fast tips to help you:
Balance your Hips and Thighs,
Emphasise your Waist,
Draw Attention to Your Upper Body, and
Elongate your Legs.
The first thing we want to get straight is this; in regards to fashion for Plus Size Pear Shaped Women – it is all about it. If a garment fits you properly you will look amazing – if not, you won't. However here are our top 3 tips to take things one step further to help you #loveyourcurves:
Tip 1: Draw Attention to Your Beautiful Upper Body
When styling your outfits, the name of the game is to detract from your bottom half of your body and draw eyes up to your slim and refined upper body. This can be done by:
Choosing Bright Colours and Prints: By wearing bold, colours and prints you're able to make your chest and shoulders look broader while drawing attention to your waist.
Thank About Your Neckline: Certain necklines are better for pear-shaped figures, as they help create the illusion of broader shoulders while emphasising the bust. These wide, bust enhancing necklines include:

Boat-necks
Scoop-necks
Sweetheart necks
Strapless

Pay Attention to the Fit: For most of us full-figured pear-shaped ladies, we LOVE top shopping because it is so much easier than focusing on our bottom half; however that doesn't mean the fit up top doesn't matter. When deciding between tops always look for ones that are tight around the waist and highlight your figure. For Plus Size Pear Figures, loose tops should only be worn a bit long as to cover the hips and provide substance for the shoulders.
Fall in Love with Layering: Have fun layering long tank tops and blouses with cropped cardigans and jackets to create visual interest and give the illusion of added width to your shoulder and chest area. Just remember, when layering make sure you still emphasize the smallness of your waist to help give you that hourglass figure once again.
Go for Embellished Tops: Start looking out for shirts that have embellishments around the neckline to help elongate the shoulder and neckline. Embellishments perfect for Full-Figured Pear Shaped Women include:

Beading,
Bows,
Scarfs, and
Collars

Look for Wide Sleeves: Wide sleeves are the perfect answer for Plus Size Pear Shaped Women looking to make a bold fashion statement as they add volume to your arms, resulting in balancing out your voluminous hips and behind. Try to look for tops with:

Bell Sleeves
Kimono Sleeves, and
Rolled or Scrunched Sleeves

It's All About Length: When choosing the right tops for your Plus Size Pear Shaped Figure remember it's all about the length of the top for you. Try to avoid top hemlines that reach down to your thighs as it will only make them and your hips look larger. Instead, look for tops that skim over your hips, extending just below your hipbone (and no further) to help mask the widest part of your hips creating a flattering look.
Make Sure You Think About Your Underwear: When trying to add volume to a small bust it's important not to forget about your undergarments as the right bra can create a major transformation to your body assisting in accentuating your beautiful small waist. When bra shopping, be sure you look for:

Padded Bras, and
Push-up Bras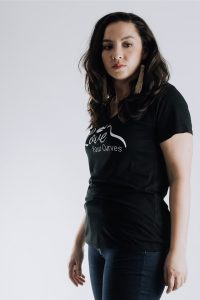 Tip 2: Create a Slimming Effect to Your Hips
To continue the emphasis of your beautiful upper body, it's important to not forget or ignore styling the bottom half of your body. For most Full-Figured Pear Shaped Women, dressing your bottom half of your body is the most dreaded part of a shopping trip; however, it doesn't half to be. The name of the game here is to simply create the look of a slimmer bottom half to create balance, and this can be done by following our next set up tips:
Stick to Wearing Dark Colours: Let's face it, ladies, dark bottoms are the bread and butter of Plus Sized Pear Shaped Women. By wearing dark colours, you can visually create a slimming effect causing eyes to skim over your more enhanced curves drawing the eyes up to your torso. When shopping for bottoms make sure you gravitate to:

Dark denim washes and
Shades of black, grey, navy, brown and olive green

Get the Right Shape: Just like a fit for shirts, there are specific shapes of pants that suit your Full-Figured Pear Shaped body best. These shapes will create a proportional sizing effect to your legs and ships while drawing the attention away from your midsection. Here are the shapes that work best:

A-line Dresses and Skirts
Boot-cut Pants
Straight Leg
Flared
Shapes that are the most unflattering for Plus Size Pear Shaped Figures include Skinny Jeans, Pencil Skirts and Tapered/Cigarette-style pants as they showcase the size of our hips/rear making them look larger than they are while shortening the look of our legs and enlarging or calf/ankle area.
Choose Flattering Skirts: As mentioned above, a-line skirts and dresses are heaven for Full-Figure Pear Shaped Women; however, there are still style tips than can help you make skirts your number one go-to outfit choice. Make sure you wear skirts that hit the knee or ankle area and no in-between as these two lengths will help balance out your hips and hide your fuller thighs. These two lengths will also draw the eye up rather than lingering on your hip area. Additionally, look for skirts that are high waisted as they will help elongate your legs. Skirt styles to stay away from include:

Tight-fitting skirts,
Skirts with ruffles around the waist, and
Short thigh-high skirts

Discover Your Love for Dresses: Life is a wonderful thing. One thing I've noticed since creating Pear Collections is that many Plus Size Pear Shaped Women are terrified of wearing dresses; however, dresses are probably the BEST way to flatter your curvaceous bodies. Dresses are a great way to draw the eye upward towards your torso while also emphasising your waist and covering up your midsection. When looking for dresses make sure you check out:

A-line Dresses
Wrap Dresses
Tulip-skirt Dresses
Waist Enhancing Dresses
Tip 3: Make Accessories Your Friends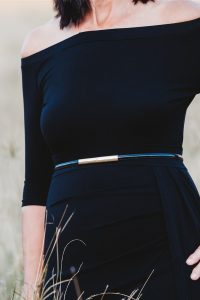 There are a million ways accessories can make an outfit. For Full-Figured Pear Shaped Women, the use of accessories can draw the eye up away from your hips and thigh while allowing you to add a bit more personality to your outfit.
Choose Statement Necklaces: Go for bold, bright and fun necklaces that hang low to draw eyes to the upper half of your body. This extra detail on your chest will help make your bust look fuller assisting in creating a proportioned effect for your entire body.
Wear Bold Earrings: While keeping in mind you only wear one statement piece per outfit, we wanted to make sure you also knew about the amazing effect earrings can have on your look. By putting on eye-catching earrings you're able to once again draw the up further up the body with your choice of glittery, chandelier or dangly earrings.
Remember Your Scarf: Coming from Canada accessorising with a scarf comes second nature to me; but I'm aware that's not the case for many. So, let's discuss how amazing scarfs are for Plus Size Pear Shaped Women. Scarves add volume and dimension to your upper half ultimately creating wide to your shoulders and bust area. When accessorising with your scarf wardrobe make sure you go for a variety of designs including colourful circle scarves.
Wear the Right Shoes: Believe it or not, there are shows Full-Figured Pear Shaped Women just should not wear. Shoes have the ability to change the entire appearance of the rest of your body; so make sure you plan your look down to your shoes. When creating your outfit go for shoes with pointed toes to help elongate and slim down your legs while trying to favour high heel options to add height and sculpt your leg muscles. If you are up to showing off your personality, create a bold look by wearing colourful shoes to help draw eyes away from your hip area. Top Tip: Say away from round-toed shoes!
Finally, Don't Forget About Belts! Now I won't go too in-depth into my love of belts for Pear Shaped Women in general but I needed to make sure this was said in this article. Ladies, emphasise your natural waist the belts! They are incredible! To learn more about why belts are perfect for Plus Size Pear Shaped Ladies make sure to check out the entire episode I dedicated to them by simply clicking here.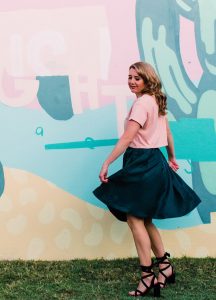 Well there you have it, my top three tips for dressing Full-Figured Pear Shaped Bodies. Now before I finish this article I want to make one thing extremely clear; When it comes to styling tips and trips always remember that fashion is meant to be fun and a way to express yourself. When things come down to it just wear what makes you feel good and brings you joy.
Everyone on this planet is unique so while these style tips have been carefully thought of; they are tips in the end – not guidelines. Experiment with your style and find out what suits your body and personality best. The whole point of Pear Collections is to help our community feel more comfortable in our skin while learning to truly love our curves.
Have fun styling your beautiful curvaceous pear-shaped body and remember as long as you are comfortable that is all that matters.