Like many of you this week I came across this moving video of Camille Rainville's poem Be a Lady They Said; performed by former Sex and the City star turned activist and politician Cynthia Nixon. Today I have watches it at least 5 times now and it still gets under my skin for multiple reasons. Not only is the poem itself INCREDIBLY moving but the video created by Girls Girls Girls Magazine mesmerizes me. Cynthia Nixon's piercing eyes somehow reach into my soul and spark every inch of my feminist make up. For years I have been a true believer in the equal rights movement and am passionate about promoting the love, respect, and appreciation of all genders; so it thrills me to see such an impressive video going viral internationally.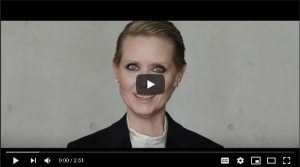 First, let's discuss the strong imagery this incredibly powerful video includes. From all the pop culture references, notable political models, politicians, and actresses to serial sexual harassers such as Donald Trump and Harvey Weinstein; viewers are taken through the poem in a 'poetic' visual form. This visual display perfectly represents the anger, frustration and global injustice women around the world are currently feeling in today's modern culture. Phrases such as 'Be a lady they said. Don't be too fat. Don't be too thin' It also directly speaks to me and my personal struggle of trying to understand what society expects me to look like. Just as many of my fellow Pear Shaped women out there; I am constantly receiving mixed reviews of my body type since my top half is so much smaller than my bottom. Then we get to this… 'Be nothing…be less than nothing…'. This is where my walls were broken down and it felt like I was a punch in the stomach. What powerful words. I think everyone, male and female, has felt like society was telling them this at least once in their life and it's something that I know many of us struggle with every day. So how do we turn off societies ever-demanding standards and listen to our own inner voice? How do we turn off the horrible things people say about our bodies, behaviour or beliefs? How do we stand up and take action against sexual harassment? Just 'be a lady'…they said. And that is what I'm planning on doing and promoting through Pear Collections. I all of us to be strong, independent and confident ladies by:
Supporting other women,
Not seeing other women as competition,
Not judge other women based on what they are wear or their careers,
Hand your fellow woman a tampon in the bathroom,
Complement other women,
Help protect other women,
Don't be afraid,
Choose the selfish option,
Never sacrifice your dreams, happiness or sanity in order to stay in a relationship
Don't let negativity weigh you down,
Learn to become comfortable in your own skin,
Eat alone,
Follow your passions and most importantly
LOVE YOURSELF
Let's all listen for the last time; Be a lady, they said.