Did you know that the most common body type amongst women in the 21st century is Pear-Shaped?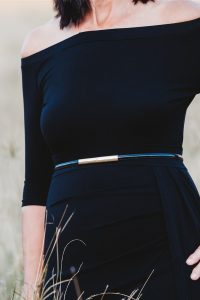 A Pear Shaped, or Triangle Body, has more weight on the lower half of the body with the widest hitting at the hips, thighs, and backside. The top is half of your body will be fairly petite in comparison with narrow shoulders and small waist and bust.
Remember, you can be tall, short, heavy, or skinny and still be considered a Pear Shaped Woman.
For us, Pear Shaped Women, finding the right outfit to flatter our curves can be tricky as many styles simply don't fit the size differences we have above and below our waist. Although shopping can sometimes be frustrating there are simple tips and tricks you can follow when styling your curvaceous Pear Shaped Body.
Belts are a Pear Shaped Woman's Best Friend
The main goal for styling your Pear-Shaped Curves is to elongate your figure so you look less bottom-heavy with the ultimate goal being to balance your hips and shoulders. The best way to do this is to learn to love accentuating your smallest asset, your waist with the help of belts. Waist Belts allow you to draw attention away from your bottom half and towards your upper body through the use of colour, shape, and style.
It is our opinion at Pear Collections, that Belts are one of the most underrated accessories in our modern fashion era. Here are our top 8 reasons why we love belts for Pear Shaped Women:
Belts are both fashionable AND functional,
Belts allow you to create a personalized fashion statement,
Belts help you create and accentuate curves,
Belts create a refined look to your unique style,
Belts highlight your Pear Shaped assets,
Belts help you look slimmer,
Belts help create the illusion of a larger bust, and
Belts help you create a waist-defining shape
Be Aware, There Are Rules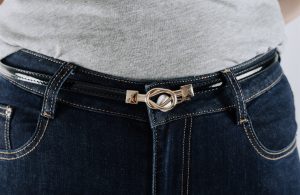 Although belts can be extremely flattering for Pear Shaped Women they can also be extremely unflattering if they are placed at the wrong point of your body. When placed correctly on your waist (smallest part of your body) you will accentuate your curves beautifully, if not you will only draw more attention to your hips creating an unbalanced look.
When creating your outfit make sure you place your belt on or above your waist, staying clear of your hips. Here are some styling tips from our Pear team to help you work with your pear proportions and make the most of your beautiful pear curves:
Petite Pear Body Type: If you are a petite pear you most likely size 0 to 10 and are maximum 5"5. A thin, monochromatic belt placed at your natural waist will help to cinch in your waist, accentuate your curves while elongating your lower body to create a longer, slimmer and streamlined silhouette. If you struggle with a short torso and petite body, try gravitating to more of medium size belt that matches your shirt or dress to help elongate your upper body show how stunningly beautiful you are.
Plus-Size Pear Body Type: For Plus Size or Full-Figured Pear Shaped Women, you want to gravitate to a loose fit and contrasting belt options. For you, slim belts are the best as they can do wonders to highlight your pear figure, especially if you are wearing boldly printed outfits. Just make sure that your slim belt isn't too tight; it should rest lightly on your waist for the most comfortable fit. Additionally, if you have a longer waistline, it's suggested you try a classic wrap belt as it will help in creating an illusion of a slimmer upper body.
Tall Pear Shaped Women: Are you a tall Pear Shaped Woman and often find it difficult to work with your elongated proportions? Well, here is a fantastic tip for you: belts with more surface area look most proportional to your beautiful curves. You should opt for a slightly thinner belt (around an inch and a half to two inches) to help create a proportionate look.
Short Waist Pear Shaped Women: Got a short waist? Not to worry, many full-figured pears do. What you want to do is create the illusion of a longer upper body by drawing the eye downward (unusual for pears I know). A sling belt around your lower waist will help to create a V shape effect helping you to create a longer upper body line while emphasizing your waist.
Long Waist Pear Shaped Women: Surprisingly most petite Pear Shaped Women has elongated torsos and short legs so styling your Pear Shaped Body and be extra trying; however not impossible. For you, we suggest to get in touch with your funky side and play along with buckles to embrace this opportunity. Whether you're wearing a blazer, skirt, or simple dress try and play up your waist and above waist area to create the look of longer legs.
All in All,…
If you do decide to wear a belt to accentuate your beautiful Pear-Shaped Curves just make sure it's a waist (or higher) belt that helps to draw attention to your upper body while deemphasizing your hips, thighs, and butt areas. This will help make your waist look even slimmer than it naturally is while showing off your beautiful curves many women pay thousands for.