Over the last year, Pear Collections has had the privilege of working with some incredible women through the process of collaborations.
As many of you know, our core mission at Pear is to help women love their curves while feeling comfortable in their clothing; but it is also our mission as a female-run business to support fellow women in business. We love working with fellow women who are striving to accomplish their dreams, after all, that's what owner and lead designer Angie Martin did when creating Pear Collections.
In one of our largest collaborations this year, the team had the pleasure of working with Jasmin Tyquin-Lutherborrow owner and head photographer of Jasmin May Photography.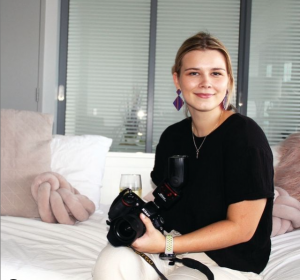 Who is Jasmin?
To give you a bit of background, Jasmin is a talented young Brisbane-based photographer who created Jasmin May Photography as she naturally sees the world through a creative lens. Jasmin's sense of creativity comes from the passion to help others capture candid moments while helping them gain the confidence to love themselves and be comfortable with who they are.
She loves working on meaningful projects so when the opportunity to work with Pear Collections she couldn't help want to get involved.
Why the Passion for Capturing a Moment?
Like many of us female entrepreneurs, Jasmin's business was created out of a sheer passion for working with truly remarkable individuals in an attempt to capture valued moments for a lifetime.
Jasmin's photography style could be described as modern and vibrant as she loves to capture candid moments showcasing who you are on the inside and celebrating it with the whole world.
As Gerardo Suter said 'I didn't choose photography. Photography chose me', and for Jasmin – this is 100% true.
Life as an Entrepreneur, Daughter, Sister, and Psychology Student
Although photography is Jasmin's first passion, her second is helping people.
For a photographer like Jasmin combining these two passions comes naturally by focusing on helping every client of Jasmin May Photography improve their feelings of Self Love and Confidence in each shoot she runs.
In the world of psychology, professionals dedicated their lives to the understanding of how we think, feel, behave and learn. Because of this, every time Jasmin steps into the world of photography she can bring a little extra to each project helping her subjects understand themselves better while teaching them how to value themselves on a higher level.
After watching this process happen right before my eyes, I was amazing who she took our most self-conscious model and made her the star of our shoot; bringing her inner beauty to life.
Collaboration and Joining Our Community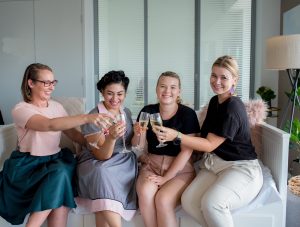 After growing up being bullied both in Primary and Secondary School Jasmin has struggled with her self-love and confidence. As she has matured over the years she has begun to work on her love by learning to become her friend and valuing herself over what others say about her. This self-work has ultimately resulted in her ability to leap into the world of psychology and becoming an inspiring photographer for her clients.
It was this internal work Jasmin has done over the years that drew her to working with Pear Collections in our largest collaboration yet. Jasmin, love the concept Pear Collections promotes which is the empowerment of women to love themselves inside it out. By understanding the struggle many of us go through she was called to support our Pear Community in beginning their journeys to loving themselves.
The Project
This long-awaited collaboration involved three fellow female entrepreneurs as well as three beautiful pear-shaped models. Originally planned for March 2020 (the week of the COVID 19 lockdowns), this project was only rescheduled at a time that was safe for the team to get together and make magic happen.
For this project, Jasmin and our team focused on showcasing real women wearing the Pear Collection range. This meant that Jasmin had to coach non-experienced models and build up their self-confidence to inspire fellow pear-shaped women around the world to love their curves.
One for meeting a challenge, Jasmin successfully inspired our models to feel comfortable in a room full of strangers and successfully was able to bring out each models' personality and inner beauty. Coming off a year in isolation for many of us due to Coronavirus; this project was created to help remind women to love their curves and who they are during a time that many of us lost hope in so many aspects of our lives.
Jasmin took this task and created a collection of images that not only showcased the Pear Capsule Range but captured the overall feeling of the company and sense of self-love effortlessly.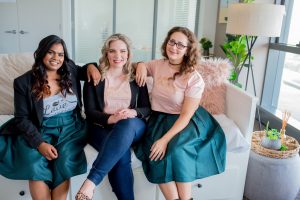 Want to See the Results?
Are you wanting to view Jasmin's work with Pear Collection?
We don't blame you! Although much of her imagery is shown throughout our website we wanted to make sure there were easier ways to view her work. Simply click the below links and you will be able to view all images created during this partnership while learning more about Jasmin, her business, and how you too can work with her to capture your candid memories today.