Sadly, the world of fashion doesn't always cater to all shapes and sizes. That's why Pear Collections was created to help support and promote Pear Shaped Bodies. However, when you consider pear-shaped women; we still come in all shapes and sizes; which makes it hard to know if you are one or not.
A Pear Shaped Body is one that has larger hips that as wider than your bust and shoulders. Here is our simple checklist of characteristics a Pear Shaped Women often has: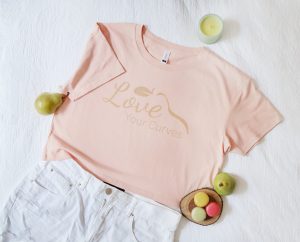 Your shoulders are more narrow than your hips and maybe sloped,
You have a smaller top half of your body, including your bust,
You have a defined waist,
You have wide hips,
You have full hips and thighs, and/or
Your legs are usually larger which can cause cankles.
If you've said yes to any of these, chances are you have a Pear Shaped Body; congratulations and welcome to the Pear Community!
Now, what if you have a Pear Shaped Body and are also under 5'5… like me, you would be considered a Petite Pear. This means, not only are your curves not the 'status-quo' but your height isn't as well…Not to worry I know exactly how frustrating this is; I'm 5'4 and size XS on my top half and M on my bottom.
If you ever find it difficult to dress your beautiful Pear Shaped curves and adorable petite height – keep reading Pear Collections and I have got 4 Style Tips for Short Pear Shaped Women just like you.
1. Highlight Your Petite Upper Body
Let's face it, one of the best things about being a Pear Shaped Women is our upper bodies. We can fit almost any top, layering is our jam and we can sleep any way we like due to our petite busts. By styling your outfit to create more a balanced silhouette by visually adding more 'weight' to your upper body to your lower half you will be able to de-emphasize your larger hips and thighs. This can be done by:
Focusing on structured/padded shoulders to create a wider/strong shoulder line,
Wearing eye-catching bright colours and patterns to attract others to your beautiful face,
Wearing a beautifully tailored and fitted shirt that accentuates the best part of being a Pear Shaped Women; your tiny waist,
Investing in a good bra to lift your chest to further accentuate your beautiful neckline and waist,
Learning to love Crop Tops to help lengthen your bottom half,
Tucking in your shirt to once again show off your small waist and length your legs, and of course
Avoid boxy tops that hide your small waist!
2. Play Down Your Lower Body
The goal of any Pear Shaped Woman is to de-emphasize the width of your bottom half by making your hips and thigh look smaller, leaner, and longer than your top half. This will help balance out your curves while also accentuating your natural body. Here are Pear Collections and my top style tips to help you add length to your petite frame while still loving your curves: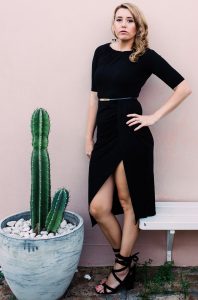 Wear darker colours on your lower half to help draw attention to your face,
Learn to love high- waisted jeans, pants, and skirts to help create a more defined waist while visually elongating your silhouette,
Try asymmetrical dresses with slits in them to add length to your calves and make room for your larger hips in a classic manner,
Make A-line and Flared Skirts/Dresses your friends as they are the best styles to help define your small waist while creating a more elegant and chic look on your petite frame, and of course….
Stay away from skinny and tight pants/skirts and dresses as they will emphasize your hips and thigh regions that will make you look bigger and shorter than you really are,
Also, avoid embellished bottoms (such as patterns and large pockets) as they will only draw bulk and attention to the largest part of your body.
3. Think About Your Feet
When creating that 'perfect' look; don't forget about your feet and the shoes you are pairing with your clothing. For Petite Pear Shaped Women, shoes are extremely important in assisting in providing the 'look' of increased height and balance to your frame. Always opt for pointed shows to add a bit of length to your silhouette while trying to wear some form of heels.
I know what you're thinking; heels are horrible BUT I do have to admit they do wonders for our petite legs. Not only do they lengthen the look of our legs but they also create a slimmer look for our calves while also making our hip/butt region incredible.
4. Don't Forget About Your Accessories
When it comes to elongating your legs and accentuating your small waist a belt is going to be your best pal. By pulling in your waist on a dress, skirt, or pants you'll be able to show off your natural curves while breaking up your body. Thin waist belts will also help in creating extra length for your legs; which is a major bonus.
Remember…
Now, remember ladies these are Pear Collection's style tips for Short Pear-Shaped Women; these tricks might not be for everyone. Our only hope is that you've gained some inspiration to help you in your journey to realizing how beautiful your curves truly are. Make sure you play around with your style and make it your own while drawing attention to your upper body and de-emphasizing your hips and thighs.
Good luck and if you'd like to learn more Style Tips & Tricks make sure you join the Pear Community today and Shop Pear Collections for clothing that is made to flatter your curves!