Today is International Women's Day and on behalf of Pear Collections I would like to 'tip my hat off' to all the inspiring and empowering women across the globe. To celebrate this amazing day; Pear Collections has taken part in an amazing project one such empowering woman has created.
Sophie Mulheran created her company, Sophia, in 2016 in a mission to revolutionise the homewares and stationery industry by handcrafting items that are sustainable, ethical and are built to last for generations.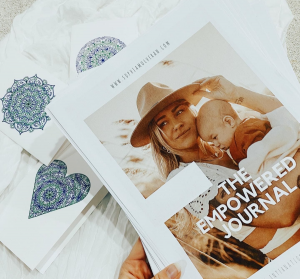 This year her inspirational International Women's Day Project has collaborated with 1,964 women from 10 countries around the world to bring you The Empowered Journal. This beautiful book features 100 stories from women around the world sharing their inspiring experiences to celebrate womens achievements, raise awareness against bias, take action for equality and celebrate social, economic, cultural and political achievements.
This project was created with one simple mission 'To collaboratively celebrate women from around the world by sharing unique and beautiful stories and to inspire and empower the women around us by circulating beautiful cards that are filled with words of love, appreciation, support and kindness.'
I am truly honoured to say that Pear Collection's story is one of the 100 story's celebrated in The Empowered Journal. To be included in a project such as this is what Pear Collection's is all about and we would like to take it one step further…
I would like you to nominate an inspiring woman in your life or it could be a complete stranger doing it tough and they will go into the draw to receive a package with one of our 6 cards filled with words of love, support, thankfulness and appreciation. Simply follow the below instructions to help celebrate women who inspire you this International Women's Day:
Like Pear Collections Facebook or Instagram Page and tag the nominated inspiring women in your life. (there is no limit to how many inspiring women you can nominate)
Download the 2020 The Empowered Journal to read mine and the other 99 incredible stories of women around the world.
Tell your family, friends, neighbours, colleagues and even stranges about how they can get involved!
March 15th I will be choosing the lucky 6 women who will be sent Sophia's beautiful special edition International Women's Day cards and will confirm any special information you would like included in their special delivery.
The first International Women's Day took place in 1911 and was supported by over one million people, today International Women's Day is celebrated globally and I couldn't be more thrilled to support this project on behalf of Pear Collections.
Let's celebrate women together.