Pear Collections has had the privilege of working with some inspiring women celebrating their artistic passions which they have turned into businesses. While it's our mission to help women love their curves while feeling comfortable in their clothing – our other mission is to support fellow women in business going after their dreams. After all, that's what owner and lead designer Angie Martin did when creating Pear Collections.
Our latest collaboration is one that the team has been quietly working on behind the scenes for a while now and we couldn't be more thrilled with the results. For this project, we partnered with another incredibly inspiring woman; Christine Innes from The Corporate Escapist.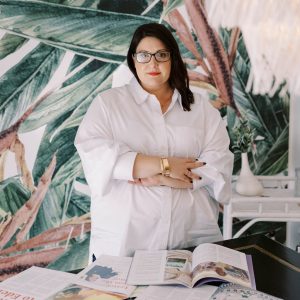 Who is Christine Innes?
In her past life, Christine was a corporate superstar, earning a great wage and climbing the 'success' ladder. However, corporate life wasn't sustainable for her as it took a toll on her both mentally and physically until she eventually hit rock bottom. Instead of staying there, Christine decided to pick herself up, rebuild her life and follow her true passion – helping fellow business owners succeed in achieving their goals.
Today, Christine is an author, speaker, coach, and founder of The Corporate Escapists Program and Magazine.
Journey to Finding Self Love
By following her passion for helping others, Christine, created The Corporate Escapists to provide others a safe place to learn, grow, and be supported escaping the 9 to 5 life and embracing your true callings. The stories shared through this great community help individuals, like you and me, what it's like behind the scenes of creating passion project businesses and following your dreams.
Christine has gone from broke and broken to creating a life she truly loves. She now can wake up every day living life to the fullest and it is her mission to help you do the same. Throughout this journey, she has also been able to look inside and focus on loving and valuing herself. Because at the end of the day, she knew she couldn't create the life of her dreams until she knew she deserved it.
By finding self-love Christine has been able to create an empire helping others create the best versions of themselves.
Collaboration and Joining Our Community
As you would have guessed, Pear Collections instantly connected with Christine when first meeting at a business event a year ago. With our two missions being all about supporting others in loving and valuing themselves it almost seems meant to be that we discovered each other.
Due to this connection, the two brands have participated in multiple projects together this past year. Together we have been supporting one another while also supporting each other's communities the best way we know how – sharing our stories. The below projects are just the beginning of this partnership so make sure you stay tuned for more, much, much more!
The Project (Part 1)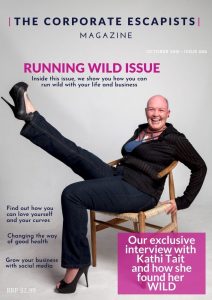 For this collaboration, Christine and the Pear team got together and featured Pear Collections in The Corporate Escapist Running Wild magazine.
We were thrilled to be a part of such an important edition as Running Wild was focused on promoting inspiration Ing stories to help you live your best life while following your dreams. Ultimately, running while with your life and business. Topics discussed in this feature included:
Besides these headline feature, there was also so much more inspiration titbits that were discussed through this edition to help make the most of 2022.
For our Learning to Love Your Curves feature, our team discussed how and why our community was created, the concept of prioritising Capsule Collections as a most sustainable option than Fast Fashion as a clothing brand, and what can be expected from us in the future
To read our full feature make sure you click here to get this fantastic magazine today!
The Project (Part 2)
The second part of this collaboration included us very of Style Tips & Tricks Vblog series!
In this four-part feature, Christine, and Pear owner, Angie Martin discuss everything from personal to professional life topics.
In the first episode, we discuss Christine's journey to love herself and creating The Corporate Escapist, and then in the second episode, we went deeper to understand what Self Love means to her and why it was important for her personal growth to prioritise it.
By the third episode, the impacts of prioritising self-love were discussed, and to finish off the series Christine share her top tips for getting started today.
To watch these episodes simply click here.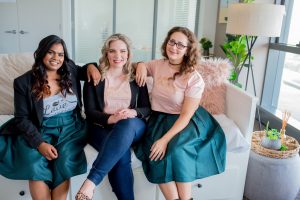 The Project (Part 3)
Seeing as our communities and teams work so well together Christine and Pear are looking to continue our collaboration well into 2022 further supporting each other's community and spreading the word about the importance of following your dreams, valuing yourself, and ultimately Loving Your Curves!
Due to this, make sure you watch this space for exciting new collaborations that are due to be launched!
Want to See the Results?
Are you wanting to the results of this collaboration?
We don't blame you! Although much of the feature can be seen throughout our website and social media, we wanted to make sure there were easier ways to view our results. Simply click the below links and you will be able to view all images created during this partnership while learning more about Christine, her business, and how you too can work with her to capture your company's brand.