"To be beautiful means to be yourself. You don't need to be accepted by others. You need to accept yourself." – Thick Nhat Hanh
This quote speaks volumes to me.
As a little girl, I was petite, loved dresses, and always wanted to be pretty; and I was for all tense in purposes. But as I grew older and more aware of my looks and figure I began to just want to be invisible. To this day I don't know when the pivotal event occurred that changed my perception about myself however; in my mind, I began to devalue myself and believe I was ugly.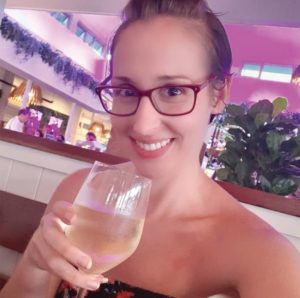 Throughout my teenage years, many people would say I was beautiful but I began hiding my face in mirrors so that even I wouldn't have to see myself. Instead of becoming obsessed with making myself feel pretty I tried to avoid allowing myself to feel it and denied everyone else options that didn't match my own. If someone complimented me I would instantly feel uncomfortable and believe that they were lying to try and make me 'feel better'; I truly believed that they were complimenting me out of pity.
In my twenties, I have still been struggling with both loving myself and feeling comfortable in my own skin. It wasn't until last year when I realized …it doesn't matter what we look like; what matters is accepting yourself for who you are and loving yourself for it. I realized, that all these years of self-hate actually had very little to do with my looks or body shape but it had everything to do with me. This revelation helped me understand that true beauty is being comfortable with who you are and that being comfortable in your own skin affects more than just your looks. It affects everything about you and what you do.
Since coming to this realization I began some serious work on myself which, with all honesty, I am still working through and some days are better than others. With this work, however, I am now completely comfortable to see friends without makeup on and my hair perfectly and in my casual 'house clothes' which is something three years ago I would never dream of doing. Additionally, in my journey to loving myself for who I am, I have found that I smile more, have a bright 'glow' about me, and even attract more positive people in my life. Simply put, I'm loving it.
To begin this journey, it was surprisingly very easy. With a few slight changes in my thought process, I was able to begin changing my perception of myself while learning to love and appreciate who I was. Here are a few things that I did that my journey greatly;
Become self-aware,
Accept your weaknesses,
Practice gratitude,
Stop caring so much about what other people think,
Realize that no one is perfect,
Understand that everyone has things about themselves that they don't like,
Don't let anyone tell you who or what you are,
Stop thinking that there is an ideal person,
Do the right thing guided by your moral compass,
Forgive yourself for whatever you did in the past,
Let go of past hurt,
Redefine yourself,
Start each day with a clean slate,
Figure out who you are and who you want to be,
Stop being a pleaser,
Do things you want to do,
Give yourself self-affirmations,
Pay attention to how you talk about your body and change it if it's unhelpful,
Care for your body, as it is,
Evaluate your environment,
Let go of the labels people have given you,
Don't try to meet the expectations of others,
Don't try to be all things,
Rethink flaws as areas of potential growth, and
Surround yourself with people who accept you just the way you are.
In the end, being comfortable in your own skin is about knowing who you are and being okay with it. A true sense of self and acceptance of who you are is the most freeing feeling in the world and one that is worth a bit of work to accomplish. By being comfortable in your own skin you're able to experience a certain level of maturity and self-development that many others don't get the opportunity to witness for most or all of their lives.
Treasure it.