When first creating Pear Collections my main mission was to eliminate the horrible relationship that pear-shaped women have had with fashion. For years curvaceous and pear-shaped women have had to 'deal with' ill-fitting clothes that have simply not been made to fit them. After experiencing yet another horrible shopping trip back in July 2019 I had had enough with this unhealthy relationship and decided to do something about it; for all women's sacks.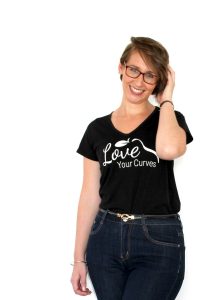 Since then Pear Collections has grown into a community where we focus on living healthy and happy lives feeling comfortable in our own skin. Today, it is our mission to help you learn to Love Your Curves.
Over the last few months, our message at the end of every Style Tips & Tricks video blog has been Love Your Curves and this message has been catching on with our viewers. Since we are so passionate about embracing and promoting with the message we have decided to create an entire 100% cotton shirt range to encourage and inspire every curvy and pear-shaped woman to love their body.
Now living in the world of self-isolation due to COVID-19, we at Pear Collections believe that this is a time that where we all need a little reminder to love ourselves and be thankful for what we have. During this global pandemic, we knew that now was the time to support local small businesses; so instead of mass-producing this range internationally, we decided to go local and support a small business.
To create this collection, we enlisted the help of a local Gold Coast, Queensland business called Screen Lab to source pre-made shirts that fit our high-quality guarantee and screenprint our Love Your Curves moto. Needless to say, we are loving the results we've received and thrilled to finally be able to officially launch this range for everyone to see!
Check out the new Love Your Curves Collection and help us continue our mission of loving your curves!