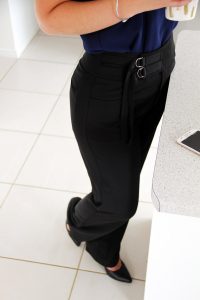 Finding a pair of pants for your Pear Shaped body can be tricky, because of your lovely curves. If you find a pair that fits at the hips and thighs, they gape at the waist or if you find a pair that fits at the waist, they will be too tight on the thighs… it's an ongoing issue for us Pears.
What we need to focus on are pants that minimize the lower half either by slimming or elongating the body with darker colours and clean, straight lines. When it comes to Pear Shaped styling, that's the name of the game really; playing with proportions to flaunt/hide specific features. No to worry ladies, Pear Collections is here to help dress your beautiful Pear Shaped figures.
Once again, if you're a pear, your fashion goal is to elongate your figure so that you look less bottom-heavy. First things first; the goal is to balance your hips and your shoulders while showing off your curves. The key here is to accentuate your top half while wearing something darker and slimming on the bottom, like dark jeans or slacks.  And no, that doesn't mean that you always have to wear black on the bottom, but make sure that the bottom is a solid colour and darker than whatever you have on top.
There are plenty of ways to flatter the curviest part of your silhouette such as choosing materials that hold their form like wool slacks or denim. They will flatter and streamline your shape while any tight knits on the bottom will cling and accentuate your width.
Simply put go for clean and tailored lines with a flat front high waistband. Pear Shapes look amazing in anything with a high waist. Not only do high fitted waist cinch in your smaller waist but high waisted tailored trousers and jeans accentuate your top half while they also skim beautifully over the hips and thighs.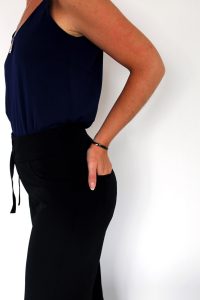 Top Pant Cut Styles Include:
Bootcut
Flat-front
High-waisted
Slim or straight
For those on the petite side, bootcut and classic trouser fits are elongating and will work perfectly for your body. With that said bootcut and flare denim styles are great go-to's for all Pears and do for your lower half what a strong should or neckline does for your upper half by balancing proportions. A flared leg draws the eye away from your hips and creates a more flattering line for your whole body; however, flares aren't for everyone. If you're into flares, a floor-grazing fit over heels will do wonders.
Unfortunately, there are many pant styles and details that don't do wonders for Pear Shaped figures and this is where most of us run into issues shopping for clothing. Some top styles and features that all of us Pear Shaped women should stay away from include:
Tapered Pants
Pinstripe Suits
Turn-ups
Combat
Culottes
Capri
Cropped Trousers
Low Rise or Hip Hugger Pants
Side Pockets
Basically, there is a heap of pant styles out there that we simply can't wear. Thankfully, companies such as Pear Collections are here to help provide options for curvier bodies specifically designing pants to be worn by us more voluminous women.