Do you have a Pear Shaped Figure? If you've noticed that you have a particularly curvaceous bottom half while having narrow shoulders and a smaller bust, then it sounds like you can officially welcome yourself into the Pear Shaped Community.
Dressing for a Pear Shaped Body is all about finding the right balance when it comes to your smaller top half and curvier bottom. In general, Pear Shaped Women need to steer clear of skirts that remain tight all over your bottom half as they put an emphasis on your wide hip and thighs instead of camouflaging and accentuating them the right way. Due to this, it is highly suggested that you go with skits with a slight flare that will expose your beautiful lefts without drawing attention to the 'trouble' wider sections of your body.
A-line and flared skirts are the best pieces to use as a base to accentuate your curves while always remembering that for Pear Shaped Bodies; high-waist cuts are king. With that said, styles such as a-line, straight and high-waist skirts are great for Pear Shaped bodies as long as the slimmer fitting styles have some stretch in the material to fit nicely over your hips and sit at a high waist. The skirts should also end just above your knee or just below your knee; if it is too long or too short, you will look shorter and wider than you actually are. Remember ladies, the length of skirts matters the most for Pear Shaped Women.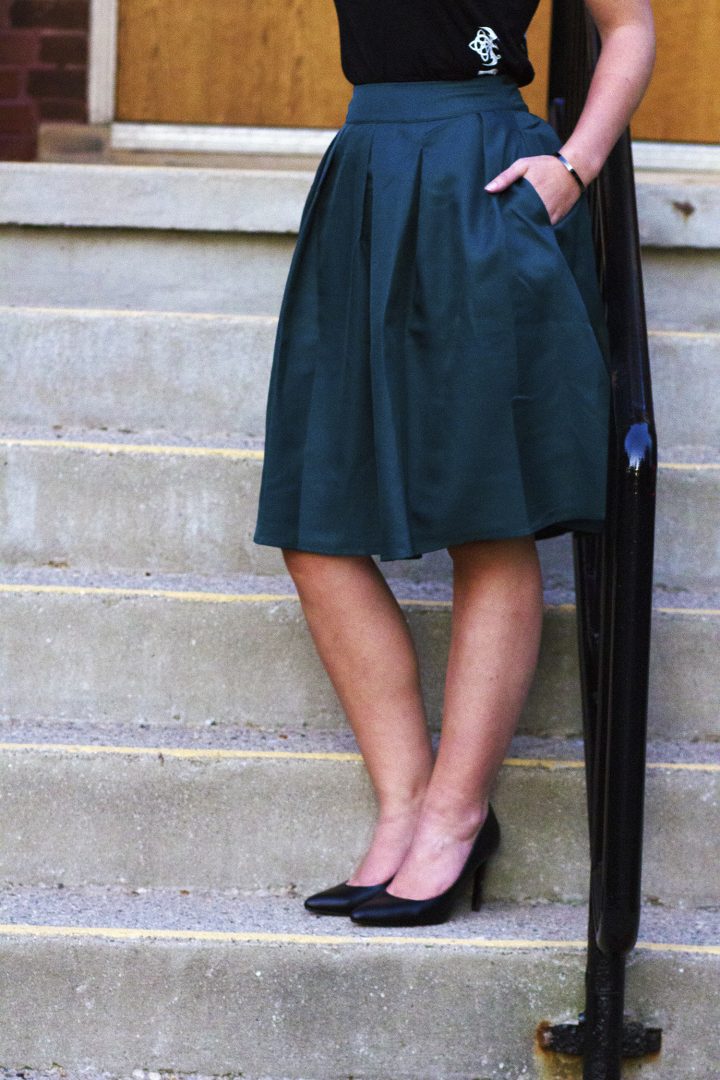 Pear Perfect Skirt Styles:
A-line
Bias Cut
Panelled
Straight
Always also double-check the waistline of your skirt before purchasing as a low waistline is a big no-no for Pear Shaped Bodies as it will bring the focus to our heavy lower bodies instead of our beautiful small waists. Go for darker colours, clean straight lines and high waist skirts that nip in at the waist and then skims over your hips to enhance, slim and elongate your beautiful silhouette.
There is an ongoing rule for curvaceous and Pear Shaped Bodies; it is always recommended that you avoid any more volume at the hip and buttocks area. Curvy bodies need a fitted skirt at the waistline and flared down to the hemline; to will give your natural shape a boost without looking too clingy on you. Additionally, try to stay away from bold prints on your bottom half as they only highlight your widest areas instead of complementing them. Rather, opt for small and subtle prints that will give you an elegant look that flatters. Finally, stay away from a skirt with too much detailing; especially around the bum area.
Skirt Detailing to Avoid:

A skirt that clings to your thighs
Skirts that are too short
Tight skirts
Bright colours
Bold prints
Too much detailing
Ladies, remember your Pear Shaped body is beautiful; as are your curves, once you make sure you're dressing it with best possible skirt styles you'll be sure to rock any look while being a true stunner.