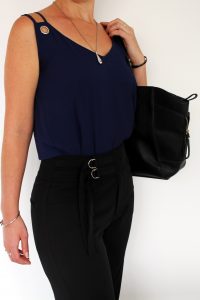 When it comes to getting dressed, it's no secret that every style does not fit all. Since every body is unique, finding the right clothing for your frame can make a huge difference in your personal style. That's why it helps to know what your general body shape is and the styles that'll help you walk in a room with confidence.
When you have a smaller top half and curvier hips and thighs, you can add some balance to your shape by focusing on detail for your tops. This focus helps to balance out beautiful Pear Shaped overall silhouette out, by accentuating our top half as well as defining our waists. Whether you're looking at extra detailing, prints, embellishments, or bright colours; tops with a little extra something will draw attention to your smaller top half and offer that ideal balance.
Best Top Details for your Pear Shaped Body Include:
Peplum
Bell-sleeves
Big Collars
Wrap Top
Horizontal Stripes
Padding or embellishments on shoulders
Cropped Tops
Cap Sleeves
Also, note that necklines are more important than you would imagine… Have you ever considered which necklines suit you the best? For pear-shaped body types, anything minimizing, such as roll neck, will make your top half look even smaller and therefore, emphasize that your bottom half is slightly bigger. Wider necklines and plunging necklines highlight the bust in a chic way and widen the shoulders, helping to create balance from top to bottom. For example, a deep plunging neckline elongates your upper body and draws all attention upward while adding length to your upper body.
Moreover, off the shoulder tops also suit Pear Shaped figures by accentuating the smallest part of your figure and allowing you to show a little bit of skin in a chic and modest way. As shoulders are beautiful and sexy parts of our bodies we highly suggest you expose one or both shoulders you as it will immediately attract attention and steer the eye exactly where you want it.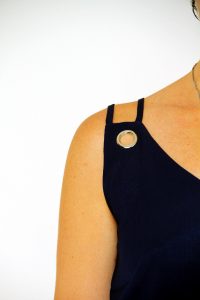 Think About Your Neckline
Square-Neck
Cowl-Neck
Boat-Neck
Plunging V-Neck
Scoop-Neck
Turtle-Neck
Off the Shoulder
Generally speaking, more fitted or structured tops give you definition around your narrow shoulder and draw attention to your narrow waist. Additionally, if you tend to be on the curvy side of pear-shaped, this is even truer for you – make sure you show it off! Ensure you are still focusing on the waist, always. As always, play around with your femininity by adding belts or wrapped detailing to show off your beautiful waist.
The one main word of caution however we at Pear Collections have for you, however, is to make sure your top finishes either above or below the widest point of your hips and bottom. If it doesn't it will accentuate the widest parts of your body and draw the eye there instead of your narrow shoulders and waist.
What Tops to Avoid as a Pear Shaped Lady:
Boxy/Shapeless Top
Flared or ruffled sleeve lines
Sloping or narrow shoulder lines
In the end, fellow pear-shaped ladies, when it comes to fun tops, go wild – this is where the world is our oyster when it comes to fashion! If you love bright colours and bold prints – have a blast. If you like pattern mixing – go for it!
Have fun shopping and allow your personality to shine!