Have you ever wondered: What dresses look good on a pear-shaped body?
What a great question!
Finding clothing that suits your curves is never easy, especially if you are a pear-shaped woman. For those of you who are unsure if you are a pear-shaped woman here are some basic features you will have:
Your hips and thighs are wider than your often sloped narrow shoulders,
You have a defined waist,
You have fuller hips, thighs, and legs, and
You gain weight easily on your hips, thighs, and lower tummy area.
If you have said yes to the above body features, welcome to the club – you are a fellow pear-shaped woman. As a pear-shaped woman, you typically want to downplay your hips so you balance out your body by accentuating your shoulders while drawing attention to your upper body.  By balancing your top and bottom half of your pear-shaped body you can celebrate your beautiful curves while emphasizing your amazingly small waist to help elongate your legs.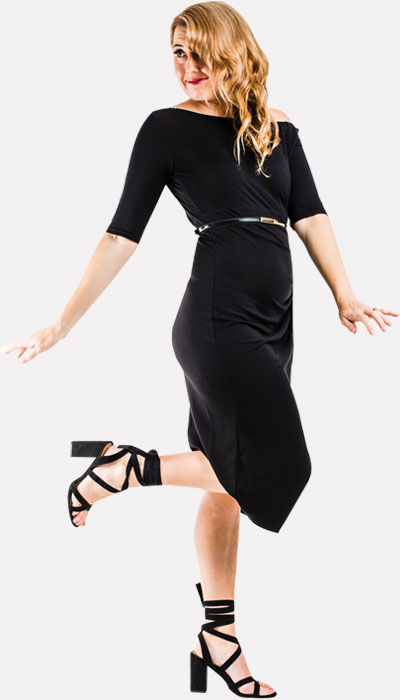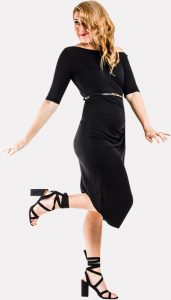 One of the best ways to do this is to say 'Yes to the dress'!
When it comes to dressing to suit your body, dresses give us pears so many options!
Dresses provide so many options to play up our curves. Whether it be dropped and embellished necklines, open backs, dramatic sleeves, or waist emphasizing belts; a well-designed dress will help you show how beautiful you truly are.
Before I jump right into the specific dresses that suit our pear-shaped bodies best I want to review a few general tips that are important to help pear-shaped bodies (no matter the size). These general rules will help you create a proportional look every time.
Make Sure You Balance Your Curves
Draw the Eye Up to Your Face
Think About Colour and How It Can Flat Your Curves
Dresses can do all of the above while drawing attention to your waist while distracting from the lower half of your body effectively balancing out your large hips. Dresses that allow for a looser fit over your hips and thigh are particularly excellent for Pear Shaped Bodies.
Top 4 Dress Styles for Pear-Shaped Women
A-line Dresses: To be fully honest, A-line anything is faltering for pear-shaped bodies but A-line Dresses top the cake. These roomier skirt designs fall away from our larger hips, thighs, and calves to help streamline our bottom half. When shopping for A-line Dresses we would highly suggest our fellow pears look for styles that include a high waist to further elongate your body and draw the eye up to your beautiful waistline. As a bonus, any woman wanting to emphasize their beautiful pear-shaped curves by wearing more form-fitting styles can also wear A-Line Dresses. Just make sure to avoid dresses with thick fabric as well as dropped waist as they will create a heavier look on your waist and hips ultimately increasing the size of your bottom half.
Fit & Flare Dresses: If you haven't heard of a Fit and Flare Dress; you have been missing out! This dress style looks beautiful on Pear Shaped bodies by showcasing your small waist while floating over your hips creating a beautifully balanced effect. As you may have guessed a Fit and Flare Dress is very similar to A-line Dresses however, they usually have a more defined waistline with a larger flounce to perfectly complement a heavy bottom half. By doing this your outfit will draw other's attention away from your larger curves you may be self-conscious about.
The Wrap Dress: The Wrap Dress is one of our personal favourites at Pear Collection as the built-in tie of the dress allows you to wonderfully define your waist effortlessly. A bonus of this dress design is that it also typically comes in a V-neckline meaning that it will not only accentuate your small waist but opens up your top half making the focus go on your beautiful neckline.
Off-the-Shoulder Dresses: Off-the-Shoulder necklines are extremely flattering for Pear Shaped Women and when they are included in a dress; it's a sure winner for us. By having the horizontal neckline within the dress, you can balance out your narrow shoulders ultimately drawing the attention up to the top half of your body.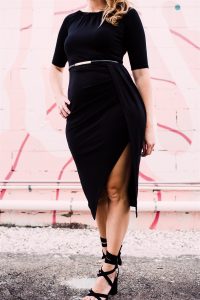 Let's Talk Length
Now that you know the dress styles that suit your pear-shaped body best let's discuss the dress length. As a Pear Shaped Woman, you should always keep an eye on the length of your hem and it can change the way your body shape looks. When you choose a dress make sure the hem is longer than the widest part of your thighs. Sadly, yes, this does mean that most mini dresses are out of the question however midi and knee-length dresses look fantastic; especially if you are trying to make your legs look longer and slimmer.
Love Your Curves
In the end, make sure you are always dressing your pear-shaped body in a way that makes you feel amazing. All style guides, including ours, is 100% generalized as all bodies (including pear-shaped) are different. Thankfully, as Pear Shaped Women we do have the unique advantage to look amazing in anything we wear as long as we remember to love our curves and simply balance out our figure.
Dresses are incredible at doing this – so take the leap today and give a dress a go!