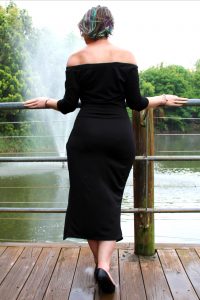 At Pear Collections we pride ourselves on offering styles for all Pear Shaped women; no matter their size. That is why we offer our styles from size 4 to size 24.
Stereo-typically, when most people hear 'Pear Shaped' their mind automatically turns to beautiful full-figured tall and curvy women that have made this body type famous. However, there is a lesser-known demographic that equally has difficulty finding clothes that fit them. Yes, I'm talking about you ladies, all the Petite Pears out there.
As a Petite Pear, you still have narrow shoulders, a defined waist and curvy hips which give you a fantastically feminine silhouette. One thing that is also very typical for us Petite Pears (yes, I am one as well!); we are typically short. Some famous Petite Pears include Rachel Bilson (5'2"), Shakira (5'2") and famously Kim Kardashian (5'3"). Fun fact, I am only 5'4" as well!
At Pear, we believe that each body has its own unique treats and everyone everybody is beautiful. This includes both our petite and plus size ladies.
For Petite Pears, we suggest that you dress your body with a high focus on your best asset; your defined waistline. When looking for clothes, your goal should be to create an hourglass-like silhouette through the following techniques:
Balancing your narrow/sloping shoulders
Drawing attention to your narrow waistline
In the upcoming articles we will be going through style tips and tricks we suggest however here is a brief explanation of what you, a Petite Pear, should look for when shopping:
Best Top Suggestions: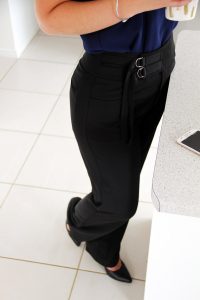 Structure
Horizontal Neckline
Wrap Tops
Best Skirt Suggestions:
High Waisted = Must Have
A-line (all the way)
Short Pencil Skirt (if you're comfortable showing off those curves)
Dark Coloured
Best Dress Suggestions:
Empire Waist-line
Skater Dress (also known as the Fit and Flare Dress)
Off the Shoulder
Best Jean Suggestions:
High Waist = Must Have
Flared
Boot-cut
Dark Wash Jegging
What not to wear? This all depends on how confident you are in showing off your curves and how trendy you want to be. However, here is a typical list of things not to wear for you:
Super Tight Clothing
Skinny Jeans/Pants (with that said I love these and wear them often)
Capri Pants
Tulip Tops
Baby Doll Blouses
Want to know more? Stay tuned for more tips and tricks for Petite Pears!