Pear Collections was created by a pear-shaped woman struggling with loving herself and feeling comfortable in her skin. After another failed shopping attempt, Angie Martin decided to solve the 'pear-shaped' problem within the fashion industry and created Pear Collections.
This brand was created to celebrate, support, and empower women to welcome their pear-shaped curves while helping them become comfortable with their body shape. As we all know, true beauty is the ability to be comfortable with who you are and that being comfortable in your skin affects more than just your looks; it affects everything you do and can even shape your experiences and how you perceive the world.
Since the brand's creation in 2019, Pear Collections has had the privilege of working with incredibly passionate women in business to help bring the brand's values to life for its customers. By supporting fellow women in business, Angie Martin a business developer and fashion designer by trade can continue her mission of helping others follow their dreams.
The Project
Our latest collaboration has been the biggest one yet involving three fellow entrepreneurs and three beautiful and inspirational models. This project was one that has been long-awaited since it was originally scheduled for March 2020, the weekend after the first lockdowns occurred due to the Coronavirus outbreak. In March 2020, Angie and the team had lined up three different models, a different location, and different female entrepreneurs with the same vision to bring her brand to life through the art form of photography. Sadly, for safety, the project had to be cancelled and a home-based photography shoot was done with the help of Angie's partner Eden Brownlee – the owner of Accentuate Web Design & Marketing. Although the 'Plan B' shoot was a success it wasn't able to fully communicate the brand or the versatility of the collection since the model was Angie, the owner who was a petite pear (a minority in the world of pear-shaped women).
Thankfully, it was finally safe for the original project vision to continue, and once again Pear Collections knew it wanted to collaborate with incredible women whose passion could be combined to create something truly special.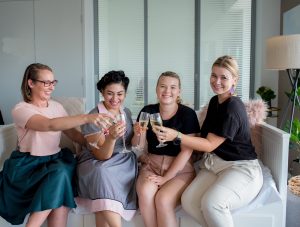 Who We Worked With
The Photographer – Jasmin May Photography
The first piece of the puzzle was finding the right Photographer to bring Pear's vision, values, and capsule collection to life. Thankfully, after replying to a Facebook Community Post, we were able to find a match in Jasmin Tyquin-Lutherborrow owner and head photographer of Jasmin May Photography.
Jasmin is a talented young photographer who sees the world through a creative lens. Her sense of creativity has led her to further her passion for helping others capture candid moments. It was Jasmin's passion and a keen interest in growing her portfolio through meaningful projects that Pear Collections couldn't help but want to work with her. As Gerardo Suter said 'I didn't choose photography. Photography chose me', and for Jasmin – this is 100% true.
The Hair & Make-Up Stylists
The second piece of our collaboration puzzle was finding the right Hair & Make-Up Stylists that would be able to bring out the natural beauty of our models while creating a look that would complement the Pear brand effortlessly. With the help and professional recommendation of Jasmin; the Pear team was able to be introduced to two incredibly talented women:
Nicole has always loved to create and make her clients look and feel beautiful, happy, and confident in themselves. As a trained Beauty Therapist and Make-Up Artist Nicole created her freelance business to allow her creativity to fly while helping to make others feel more confident.
When first hearing about Nicole and her business Pear Collections was naturally drawn to values and shared passion for wanting to empower women to love themselves and have the confidence to take on the world and she did not disappoint.
As a fully registered mobile make-up stylist, Natasha works within Ipswich, Brisbane, Gold Coast, and surrounding areas. Specializing in creating photo-perfect looks for events, weddings, photoshoots, and stage. Natasha also specializes in working with sensitive-skin allowing her clients to feel special and cared for.
As a fellow curvaceous woman, it was an absolute pleasure working with Natasha knowing she understood the need for brands such as Pear Collections. Natasha was a pleasure to work with while to worked to support our models in feeling special on the day of the shoot.
When relaunching this project Pear Collections knew that this shoot was meant to be inclusive and true to its core. We decided to use 'every day women' as our models instead of working with professionals in an attempt to show how the collection looks to the women it was designed for. Needless to say, we were blown away by the results! The three women featured in this shoot are inspirational taking a leap of faith in the brand and stepping outside their comfort zones to showcase their beauty and celebrate their curves.
As a woman who's struggled with her body image, Angie Martin, was blown away with the inner strength of all three models and couldn't have been more thrilled with their passion and empowerment to show others how loving your curves can truly change your life.
Collaboration and Growing Our Community
The team of women met in a Brisbane apartment on the day of the shoot after only communicating via email and Facebook Messenger and instantly connected with their shared passions and sense of purpose for this project. Together the team supported one other in creating a positive atmosphere where we could be ourselves and love our curves as women of all shapes and sizes.
After a long day, the 6 women left the shoot feeling like friends knowing they had just been a part of something special – something that will help others just like they feel more comfortable and empowered.
Needless to say, as a woman and owner of Pear Collections, Angie Martin was thrilled and inspired even more to continue her work.
Want to See the Results?
Are you wanting to take a look at the team's work with Pear Collection?
We don't blame you! Although much of the imagery is shown throughout our website we wanted to make sure there were easier ways to review the team's work. Simply click the below links and you will be able to view all images created during this group partnership while learning more about the female business owners involved, their businesses, and how you too can work with them in the future.
The women behind the scenes:
The inspiring models: