Whether we want to believe it or not, in our present-day environment media plays a massive role in male and female body images and self-esteem.
This may be a sad truth but for the past ten years the media has dramatically influenced our perception of our bodies and how we feel about ourselves as individuals. Both men and women are unconsciously and consciously comparing themselves and others to the media's definition of 'perfect'. This 'perfect' image is communicated through the use of magazines, commercials, movies, television, and most importantly Social Media.
Historically, pear-shaped women have always been overlooked when it comes to the 'perfect' body when it comes to fashion trends and cultural acceptance – when more than half of the female population represents this body type. Due to this ongoing exclusion, many pear-shaped women already struggle with their negative body image, self-esteem, and sense of self. Then when you take in the media's perception of the 'perfect' body always leaning towards a rectangular or hourglass body type it's easy to understand why many pear-shaped women are lost and feel unwelcome in our current society.
The Social Media Culture
Ever since the worldwide take over by Social Media this negative thinking of our body image and self-esteem has been on the rise due to influencers and brands around the world giving attention to our 'so-called flaws'. Daily we are bombarded with images of the classic perception of beauty and ideal 'perfection'. This inundation of filtered, Facetuned and edited images are resulting in a never-ending feeling of inadequacy in many men, women, and more specifically – pear-shaped ladies.
Since the era of Social Media, we are seeing entire generations, such as millennials, with the lowest self-esteem and body image levels ever recorded due to the increased use of Social Media usage. This dangerous effect on our sense of self and body images is causing a higher risk of depression, body alteration, and various mental health problems such as obsessive-compulsive disorder (OCD), social anxiety, eating disorder, and body dysmorphic disorder.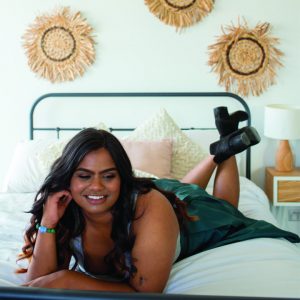 Building a Positive Self-Esteem in the Social Media World
Although it may often seem impossible, there are ways we pear-shaped women can still have positive self-esteem. Now, just to be clear, positive self-esteem isn't mean being positively obsessed with every inch of your body. Instead, it's about reaching a point in yourself where you accept your appearance for what it is and love yourself for you.
This is done by working on and building your self-esteem; which takes work. If you have a poor body image, like many of us pears often do, it may take years to repair however some simple tricks can be done on an ongoing process to help build yourself up and undo a lifetime of low self-esteem.
What is Self-Esteem Anyway?
Before we go any further, let's discuss what self-esteem is.
Self-esteem relates to how much you like yourself and how you see your character, qualities, skills, and accomplishments. Similar to body image, self-esteem and also be based on how you think others see you as a person. Women who have low self-esteem often find it hard to see positive attributes about themselves which affect how confident they feel about their body, mind, value, and overall worth. In general, self-esteem helps you to:
Have the courage to try new things,
Have the power to believe in yourself and your ability, while also
Having the confidence to make positive and healthy choices.
Why is Self-Esteem So Important for Pear-Shaped Women?
As mentioned above, self-esteem majorly affects your confidence in all aspects of your life which can help/hinder whether or not you can keep a positive outlook on life and your sense of self. This affects how much you feel you are worth and how much you believe others value you. Whether as body image is all about how you view your physical self.
In this Social Media age, is important to have a realistic view of yourself that dictates who you spend your time around, the decisions you make, and ultimately how you view yourself and the world around you. As self-esteem is the true opinion we have of ourselves and how we respect our pear-shaped bodies and mind as a person many pear-shaped women find it difficult to feel good about themselves. This difficulty is driven by a 'learned' hatred of our bodies which leads to disrespecting our bodies, curves, and ourselves as a person.
As we all know, it's hard to feel good about yourselves when we hate our bodies. Because of this hatred, it is also difficult for us to take care of our bodies if we have a poor opinion of ourselves which creates a vicious cycle that never ends.
Thankfully, there are ways we can control our body image and improve how we feel about ourselves, and create a positive sense of self. Here are a some tips I have learned along with the way in my pear-shaped self-esteem journey that I hope can help you in yours:
16 Tips to Improve Your Self Esteem: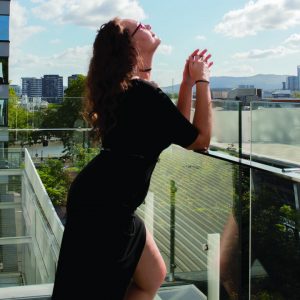 Make peace with food.
Take the time to understand the root of your feelings about your body image and sense of self.
Focus on your unique qualities.
Take up a hobby.
Set new and exciting goals you can focus on achieving.
Continually remind yourself that NOBODY'S perfect.
Appreciate your beauty.
Stop relying on others to boost your confidence.
Take care of your physical and mental wellbeing.
Inspire Others
Let go and forgive others and yourself.
Stop comparing yourself to others – especially on Social Media.
Be mindful of your Social Media consumption.
Become critical of Social Media messaging.
Learn to Love Your Curves.
By stopping comparing ourselves to what others want us to see on Social Media and forgiving others as well as ourselves for past negativity; we can begin building a healthy body image and self-esteem. Everyone in this world is beautiful in our way and by working on recognizing this within ourselves we can slowly but surely coming more confident. This confidence will result in self-acceptance while you learn to recognize your positive qualities, skills, talents, and beautiful curves that make you who you are.
Remember you are good enough and beautiful.
To learn more about Self-Image as well as Body Image please read our other article 12 Tips for Improving Your Self-Image and Body Image and don't forget to shop Pear Collections to help yourself improve your self-esteem!
Also be sure to check out our new Love Your Curve Affirmation Pack to jump start your journey to loving yourself inside and out!