Pear Collections has had the privilege of working with some inspiring women celebrating their artistic passions which they have turned into businesses. While it's our mission to help women love their curves while feeling comfortable in their clothing – our other mission is to support fellow women in business going after their dreams. After all, that's what owner and lead designer Angie Martin did when creating Pear Collections.
Our latest collaboration is one that the team has been quietly working on behind the scenes for years now and we couldn't be more thrilled with the results. For this project, we partnered with another incredibly inspiring woman; Kara Castro from Firemark PhotoMedia.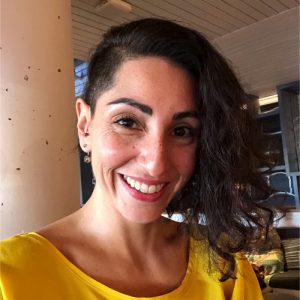 Who is Kara Castro?
Like myself, Kara moved to Australia many years ago after traveling the world. She is a giving and efficient team player who runs her business with a 'can do' attitude to ensure top results for her clients. She loves multi-tasking, planning out her priorities, and organising her fast-pasted business.
After working in a variety of environments over the last 20 years she can adapt quickly and stay versatile while getting the perfect image. As a Brisbane-based photographer and videographer; Kara loves working within the food, product, e-commerce, and lifestyle industries while supporting fellow women-led businesses.
Always committed to excel expectations, Kara has been incredible to work with and an absolute pleasure to watch in action.
Why The Love Story?
For Kara, the love story with photography started when she was in her teens, spending most of her time in the library and school darkroom allowing her creativity to bloom. The more she studied about lighting, master photographers, and how cameras work; the more she became addicted to the art of photography.
AAs her love for photography grew, she started travelling more and more. With every trip, photography was right there with Kara creating beautiful imagery and blog content she could share with her community. However, it didn't occur to Kara this could be a long-term career option until she went back to school in her last 20s and moved to Japan.
After perfecting her skills, she graduated from the amazing Japan Photo & Film Institute eventually making her way to Brisbane where her creativity now thrives. Today Kara focuses on supporting her clients with photography, video content creation, and social media management while working together with other creatives getting featured and both national and international fashion magazines.
Collaboration and Joining Our Community
After living in Japan Kara began to see herself as a giant. She began frustrated with the fact that nothing would fit her body (not even shoes). This experience changed her mind set in a positive manner. Luckily, she knew the problem was the clothing, not her body, so instead of trying to make her body smaller or trying to fit in she focused on building a healthy and strong body.
Today, she still doesn't own a scale and is confident with her curves while reminding herself repeatedly that nobody compares to her body. This positive attitude has taken years for Kara to develop which is why she decided to join our Pear Community to assist in creating this mindset for others.
The Project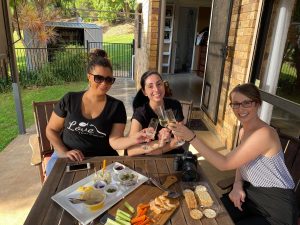 When first connecting with Pear Collections in 2020, Kara found it refreshing to see someone who was also tired of the mainstream attitude towards female bodies and what we 'should' look like.
After originally connecting in 2020 and instantly finding common ground with our shared business missions, Kara and the Pear team couldn't meet in person until 2021 due to the many COVID 19 lockdowns.
For this project, Kara and our team were focused on showcasing not only Pear Collections behind the scenes but real women wearing our range. This meant that Kara had to not only coach a real-life pear-shaped woman to model but our very own owner and lead designer, Angie Martin. While working with our non-experienced models, Kara was able to build up our self-confidence while making the team feel comfortable in front of the camera.
Through the many laughs and jokes, the group of complete strangers quickly grew connected, and each image Kara captured perfectly showcased the model's inner beauty. After waiting so long to complete this collaboration, we were able to rest assured at the end of the day in knowing, together we had created something fellow curvy women would be able to connect with and get inspired by.
Kara was able to celebrate our models while further illustrating that every woman is beautiful and that we should all love our curves, and we couldn't be more thrilled with the results!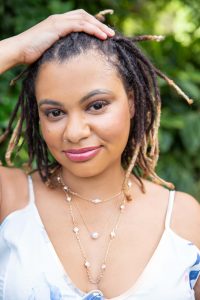 Want to See the Results?
Are you wanting to view Kara's work with Pear Collection?
We don't blame you! Although much of her imagery is shown throughout our website, we wanted to make sure there were easier ways to view her work. Simply click the below links and you will be able to view all images created during this partnership while learning more about Kara, her business, and how you too can work with her to capture your company's brand.
To learn more about this fantastic collaboration make sure you check out the first article we featured Kara in by clicking here.